There are two options for setting up server container URL:
automatically generated

custom subdomain
You can find an automatically generated server container URL that was created for you and is hosted on our domain (stape.io) in the container settings of the sGTM container.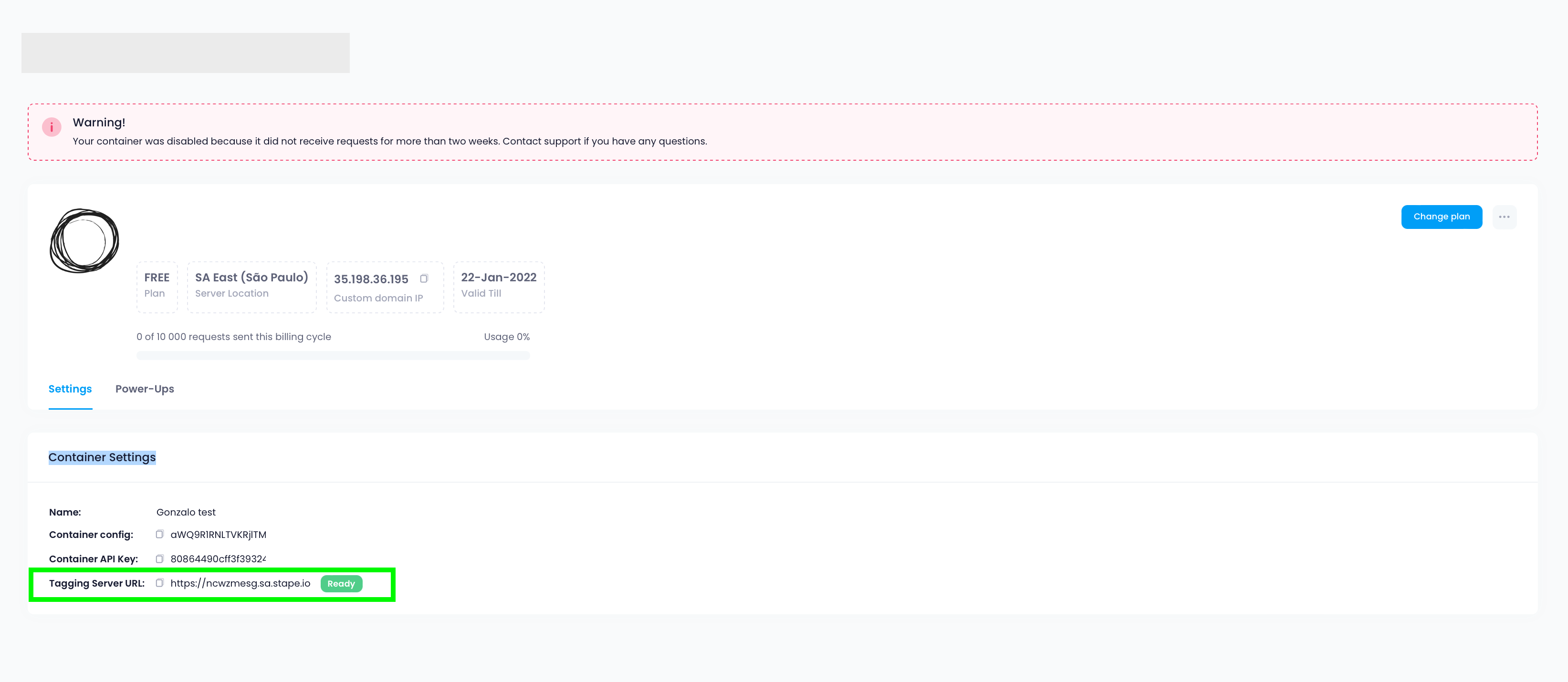 It is highly recommended to use a custom domain for accurate cookie settings and use.
If you want to configure a custom tagging URL, enable "User custom domain" -> log in to your domain name service and create a new DNS record for the subdomain you want to use. You can use any subdomain name you want. (if you are usingCloudflare, select domain -> click DNS -> Add record).
Add these settings:
Type: A
Name: ss (or any other subdomain name you want)
IPv4 address: IP address depends on the location of the servers. You can find the custom domain IP address in your stape.io account.
We have these servers locations:
US Center (lowa) => 35.193.123.107

US East (South Carolina) => 34.139.101.37

US West (Oregon) => 104.198.8.50

EU West (Belgium) => 35.195.159.201

AP East (Singapore) => 34.126.138.154

SA East (São Paulo) => 35.198.36.195
TTL: Auto
Proxy status: disable
Your settings should look like this:
Once you've done add subdomain inside gtm server account.
!!! If you use a custom subdomain, you need to modify the Google Tag Manager code added to your site. Copy the tagging URL and past it instead of www.googletagmanager.com. Make sure you didn't delete /gtm.js.
Add tagging server URL to the Google Tag Manager Server container. Admin -> settings -> container settings.
Update

Universal Analytics tagging URL inside WEB GTM container

(if you are using GA4 go to the next step). Edit Universal Analytics Base or Universal Analytics Variable inside

WEB

container -> Click More Settings -> Advanced configuration -> past tagging URL inside the field "transport URL". Once done click save and publish web container.

If you are using GA4 follow these steps:

Inside the WEB container click edit or create GA4 tag -> enable Send to server container -> add Server Container URL
Save the tag (this tag should trigger on all pages) and publish container.